Bright, festive, hearty and tasty, for a holiday! Salad Carrot with smoked chicken will be a real pearl of the New Year or Easter table. The composition of the salad can be anything, the main thing is to keep its interesting appearance, which will be remembered by everyone.
COMPOSITION / INGREDIENTS
STEP BY STEP COOKING
 Cooking time: 2 hours
STEP 1: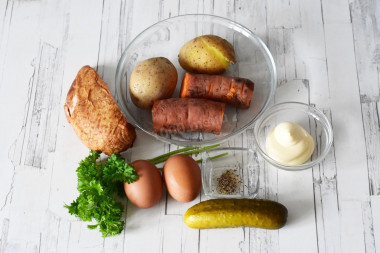 How to make Carrot salad with smoked chicken? Prepare the necessary ingredients according to the list. Smoked chicken can be replaced with regular boiled or fried fillet. You can use store-bought mayonnaise or make your own.
STEP 2: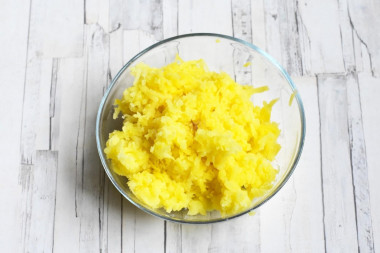 Boil the potatoes in their skins until tender, cool and peel. Then grate on a coarse grater.
STEP 3: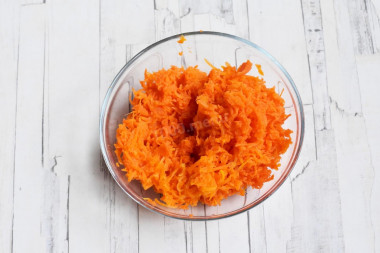 Boil carrots, cool, peel and grate on a medium or fine grater. If the carrots are watery, squeeze them out with your hands. How to cook carrots? Wash it and place it in a bowl of cold water. Boil the carrots after boiling over low heat for 20-25 minutes, depending on the size. Check readiness with a sharp knife – it should easily pierce the carrot.
STEP 4: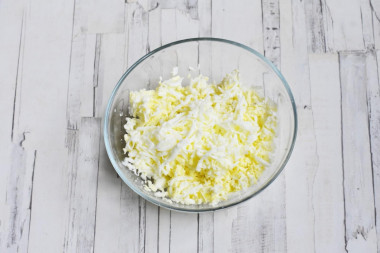 Hard boil eggs, cool and peel. Then grate on a coarse grater. How to boil hard boiled eggs? Put them in cold water, put to boil on a small fire. Boil the eggs for 9 minutes after boiling, then cover with cold water and cool. From a sharp temperature drop, the shell will be better cleaned. If desired, you can grate the whites and yolks separately and form two separate layers from them.
STEP 5: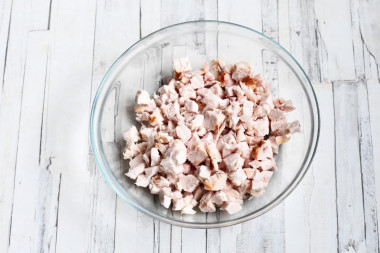 Clean the smoked breast from skin and bones and cut into small cubes. You can replace the breast with meat from smoked legs.
STEP 6: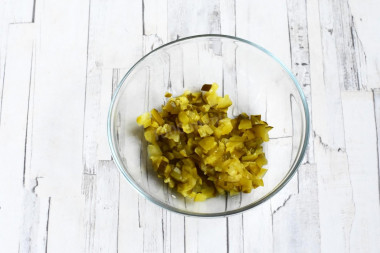 Shake off the pickled cucumber from the brine and cut into small cubes. If the cucumber is too watery, wring it out of excess moisture.
STEP 7: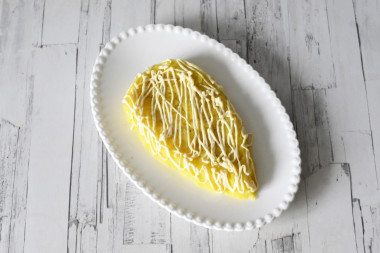 Put a layer of grated potatoes on a dish and give it the shape of a carrot. Top the potatoes with ground pepper and pour mayonnaise from a pastry bag.
STEP 8: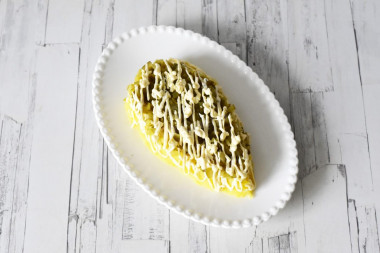 Next, distribute the pickled cucumbers and also pour mayonnaise on top.
STEP 9: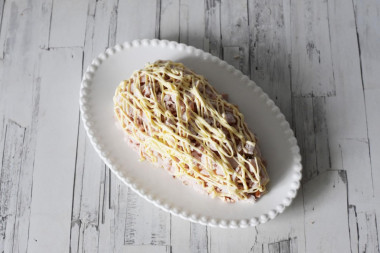 Spread the smoked chicken in an even layer over the cucumbers. You can also sprinkle it with ground pepper. Make a mesh of mayonnaise on top.
STEP 10: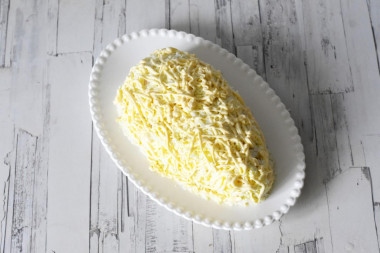 Next, distribute the grated eggs.
STEP 11: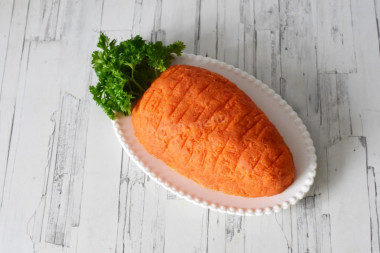 Cover the entire surface of the salad with grated carrots and smooth. To make the salad more like a fresh vegetable, make shallow grooves in the carrot layer with a silicone spatula. Wash the parsley sprigs, shake off the moisture and stick in the place where the carrot tops should be. Refrigerate the salad for 1 hour before serving. Enjoy your meal!
Important! The variety, size, quality of potatoes directly affects both the cooking time and the taste and appearance of the dish. For example, for baking or mashing, you need potatoes with a high starch content, for frying – with a low one. If you have used low-starch potatoes that are not intended for baking, they may remain raw even after a long roast, and high-starch potatoes will most likely fall apart and become unattractive when frying.
Mayonnaise is better to cook yourself. It will be tastier and healthier.
Also, as a dressing, you can use not only mayonnaise, but also sour cream or natural yogurt. They can be taken separately or mixed with mayonnaise in any proportion to your taste – this will reduce the calorie content of the dish.
Since the degree of salinity, sweetness, bitterness, sharpness, acidity, pungency is individual for each, always add spices, spices and seasonings, focusing on your taste! If you are adding any of the seasonings for the first time, then keep in mind that there are spices that are especially important not to shift (for example, chili pepper).
NEW YEAR